Gantt Diagram for IBM Lotus Notes
Plan and visualise projects using Drag & Drop
New Gantt chart for project management with IBM Lotus Notes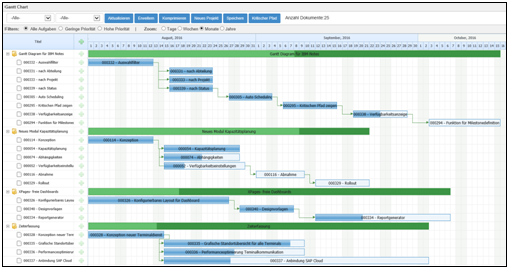 The new Gantt chart in the Cobalt ToDo Manager supports project managers and project teams in browser-based planning and monitoring of projects of any size. The Gantt chart can be used in existing IBM Domino environments without infrastructure extensions.
All projects and tasks in the company can be filtered according to different criteria. An annual overview is also available in addition to daily, weekly and monthly overviews
The filter functions allow the presentation of all projects in the company as well as detailed views of individual projects.

All projects in a specific department can also be displayed.

Any number of projects and tasks can be created, linked, modified and moved in the Gantt chart. On completion of the planning work, all changes are sent to your Domino server at the click of a button.
In the case of timetable changes or rescheduling of projects, all dependent tasks defined in the original planning are also automatically rescheduled if the "Auto Scheduling" function is activated.
The critical path display allows you to identify processes that might delay a project.

Functions
| | |
| --- | --- |
| Auto Scheduling | Weekly view |
| Critical path | Monthly view |
| Milestones | Annual view |
| Projects | Filter by company |
| Tasks | Filter by department |
| Planning via Drag & Drop | Filter by customer |
| Used via a PC browser | Filter by project |
| Used via a Tablet | Filter by status |