Lotus Notes Projekte und Aufgaben übersichtlich verwalten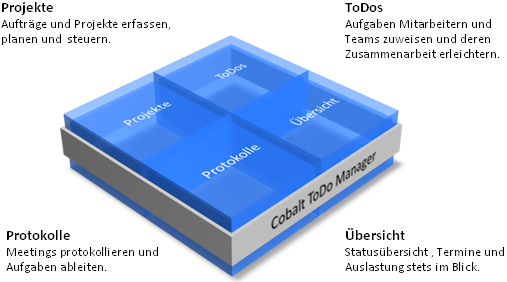 The Cobalt ToDo Manager closes the task management and project planning gap that has existed for years between simple Lotus Notes internal ToDo lists and excessively expensive project management solutions.
Specially targeted user questioning and detailed customer feedback over recent years has resulted in a solution that can be used across all requirements and trade sectors and which is not too complex for a project team of 15 employees and is also not too simple for teams with 150 project participants.
Replace your cumbersome Excel lists, or in-house solutions that are difficult to expand, with a single database that is easy to use and can be introduced without additional training.
Notification
Access rights
Attachmants
Reminder
Escalation
Excel Export
Gantt Chart
Groupcalendar
Personal calendar
Projects
Protocols
Fast collection
Status overview
ToDos/ToDo-Lists
Repeated ToDos
For all employees: Management of personal ToDos, easier self-management
For departments: Control of ToDos and projects in teams and departments<
For project managers: Project planning, status overview, regular appointments
For project teams: ToDo lists for all participants always up to date, with automatic notification
For software developers: Release-dependent task management and release planning
Minimisation of the amount of project organisation work
Full utilisation of the potential of Lotus Notes
Increased productivity
Increased quality
Improved planning reliability
Overview of all ToDos and Projects across the entire company always available
Lotus Notes Client
Web Client
Cloud/SaaS
Smartphone
Practical example 1: Taking the minutes of meetings
Log the contents of meetings and define corresponding tasks for teams or individual employees, immediately with a minimum of effort. In meetings you always have an overview of the current status of all projects. You are always able to provide the correct information, without pressing buttons and without tedious searching.
Practical example 2: Project organisation and task assignment
Whether you are a project manager or project employee, you can conveniently and clearly organise your projects using a single Lotus Notes database and always maintain an overview of all your tasks and schedules. You can create project documents and assign tasks. Tasks can be split into sub-tasks that are to be processed in parallel. You can receive automatic notification of tasks and deadlines that are due.
Practical example 3: Personal organisation and time management
Optimise the personal organisation and time management of your employees, whether in teams or working alone. All planned and unplanned tasks can be assigned a timeframe (immediately, soon, some time) or specific deadlines, according to the 'Get Things Done' principle.
Plattformen: Lotus Notes, Web Browser oder Mobile App
ToDos lassen sich sowohl per Lotus Notes Client, per Browser oder mittels App für mobile Endgeräte erstellen, einsehen und verwalten.
Aktuelle Statusübersicht
Verschiedene Ansichten, bspw. nach Status, Abteilung, Bearbeiter, Projekt oder Kunde geben Ihnen einen schnellen und stets aktuellen Überblick über alle Aufgaben und Projekte.
Excel Export
Wenn es notwendig ist, Daten aus Lotus Notes nach Excel zu exportieren, so funktioniert dies unkompliziert und schnell über die integrierte Excel Schnittstelle.
Schnellerfassung
ToDos lassen sich in Sekundenschnelle anlegen, kategorisieren und Projekten und Bearbeitern zuweisen. Ob Sie beim Kunden sind und dessen Anforderungen protokollieren oder Ihre eigene Arbeit organisieren, ist hierbei unerheblich.
Erinnerungsfunktionen
Aufgaben und Projekte werden hinsichtlich Statusänderung und Fälligkeit permanent überwacht. Erinnerungsfunktionen weisen den Bearbeiter täglich auf überfällige, heutige und anstehende ToDos hin. Auftraggeber können sich ebenfalls automatisiert informieren lassen.
Konfigurierbare Eskalationsstufen
Frei wählbare Eskalationsstufen binden Ihre Team,- Gruppen- und Abteilungsleiter in den Informationsfluss ein, wenn Termine direkt oder vorab durch Erreichen bestimmter Schwellenwerte überschritten werden.
Schnellverlinkung
Greifen Sie von jedem Ort aus mit nur einem Klick auf alle relevanten Daten zu. Sie erreichen Projekte direkt aus den Task Dokumenten, genauso wie Sie innerhalb eines Projektes alle ToDos dieses Projektes oder Kunden einsehen und öffnen können. Gleiches ist über die verschiedenen Ansichten des ToDo Managers möglich.
Bearbeitung von ToDos in Listenform
Sparen Sie Zeit durch die Erfassung der ToDos in Listenform.
Getting Things Done
Organiseren Sie nach dem bewährten GTD - Prinzip einfach und schnell Ihre persönlichen Aufgaben und verkürzen Sie so am wirkungsvollsten Ihre Liste noch offener ToDos.
The Cobalt ToDo Manager assists you in the distribution, monitoring and processing of ToDos and projects. You always have a detailed overview of the status of all tasks and measures in your company. Adjust to changes in a timely manner, react to impending delay and optimise collaboration in small and large teams, across the entire company and multiple locations.